Sponsor: Belatrix Software Factory
Financial Services Innovation with Cardless Cash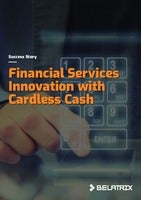 Belatrix Software was one of the first companies in Latin America to start using Design Thinking in its engagements with customers.
Belatrix, together with the customer, were then able to iterate through different possibilities, create prototypes to see what worked and what didn't – and how to overcome challenges from the technology, to connectivity issues, to the user experience.
Read this whitepaper to learn more!