Knowledge Pack
Best of Shark Tank
Take a look back at some of the timeless tales that caught Sharky's attention over the past year.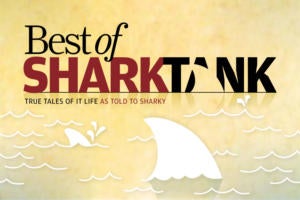 Download the year's best Shark Tanks in PDF form. And remember that Shark Tank is all new every weekday, at computerworld.com/blog/shark-tank/. Forget your own troubles with Sharky's tales of all the aggravation, consternation and triumph of a life in IT. Remember this one?
Word to the Wise
IT pilot fish gets an email from a person who's a member of a club they both belong to — and while it's not work-related, it was clearly sent from work.
"The email had been written as a Word document and, since I wasn't using a Windows-based computer, I opened it as a text document," says fish.
"This allowed me to see not only the note intended for me, but also the document history for all the other recent documents opened in Word by that user that day.
"The person who sent me the email was an attorney. Talk about unintentionally breaching client confidentiality!
"I contacted her privately and discreetly, and handed her a printout showing some of the things contained in that document history.
"And in the next email I received from her, the history section made it clear that she was now exiting Word after every document and restarting it before switching to a different document."