Knowledge Pack
Your guide to the mobile virtual reality boom
The mobile world is going virtual, from virtual assistants to virtual (and augmented) reality. This collection of columns from Mike Elgan can help you separate fact from fiction.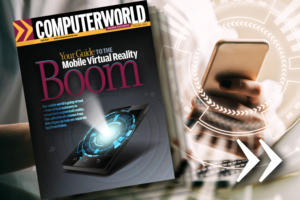 You may not realize it, but there's a virtual reality revolution going on right in front of us — and it's likely to change the way we work and play and even relate to each other.
Most people still think of virtual reality (VR) and its close cousin augmented reality (AR) as the stuff of gamers, with clunky helmets and visors, geeky glasses and mediocre graphics that can create a make-believe world that still doesn't seem very real.
That's part of the revolution, but not the whole story. Down the road, that hardware and the 3D-hologram-like worlds they make possible will become more mainstream. But for now, VR and AR are more likely to arrive first on the smartphone you have in your pocket.
[ Related: How IT can prepare for VR, AR and MR in the enterprise ]
Google, of course, pushed AR technology ahead with its Google Glass; now, Apple is running with the VR/AR ball with ARKit and the capabilities made possible by its latest iPhones. There's a reason hardware makers are focused on mobile devices: they're ubiquitous and have all of the necessary ingredients to make the virtual world more real: connectivity, LED and OLED screens, complex cameras, high-end processors, motion sensors and the ability to run a variety of apps.
With that kind of high-powered hardware in so many hands, it seems clear that, as Computerworld columnist Mike Elgan puts it, VR and AR will begin transforming the real world in the coming year. He sees AR, for example, as "transforming enterprise communications, logistics, manufacturing, analytics, product design, training, marketing, field service and more."
With that in mind, we've created this PDF of recent columns to get you up to speed on where things stand now, and where VR and AR are going. — Ken Mingis, executive editor, Computerworld
Columns in this PDF:
- Why Virtual Reality and Augmented Reality Are the Same Thing
- The Augmented Reality Boom Will Transform Phones (and Business)
- Wanted: A World Where Virtual Assistants Help (Without Being Asked)
- Why Experiential Marketing Will Be a Massive IT Challenge
Download the PDF by clicking the button below. (You may need to register for or sign in to our Insider program first.)