Knowledge Pack
The complete listings: Computerworld's 100 Best Places to Work in IT 2017
Download a compact list of the 51 large, 20 midsize and 29 small organizations that ranked as Computerworld's Best Places to Work in IT for 2017.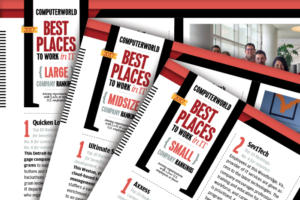 Computerworld's annual 100 Best Places to Work in IT list showcases the top 100 U.S. workplaces for technology professionals. Our 24th annual report ranks top organizations across the country that offer challenging projects, robust salaries and flexible work/life options. We honor employers that offer high salaries, superior benefits, and unsurpassed access to training and career advancement opportunities.
[ See the full Best Places to Work in IT 2017 report online]
Download our PDF to see profiles of the top 100 organizations for 2017 in a compact format perfect for downloading, saving, sharing and comparing.