Knowledge Pack
Free and cheap ways to boost your IT skills
Looking to earn a tech certification or get some hands-on experience with network administration or IT security? We've got an array of inexpensive resources for you.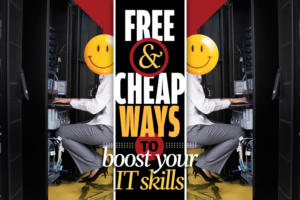 IT workers are all about self-improvement. It's the nature of the profession: If you don't keep your tech skills sharp, you'll soon be left behind.
That might be why so many IT pros have technical certifications. Nearly 60% of respondents to Computerworld's 2017 IT Salary Survey say they hold at least one certification, and almost half say they plan to pursue one in the next two years.
You can easily spend hundreds or even thousands of dollars on certification training classes. If that sounds too steep, here's some good news: Computerworld contributor Eric Geier has rounded up a host of free and low-cost resources that can help you study for certification exams. He also has some ideas for inexpensive ways to get hands-on experience in the subjects you're studying.
And if you're looking to delve deeper into network administration or security, Geier offers up a series of self-taught labs in each field, with hands-on projects suitable for beginning, intermediate and advanced learners. Some of the tasks take just a few minutes, while others are suitable for a weekend project. Along the way he covers an array of free and inexpensive tools to help you perform each task.
Projects in "Free & Cheap Ways to Learn About Network Administration" include configuring TCP/IP settings, analyzing network and Internet traffic, setting up a RADIUS server for enterprise-level Wi-Fi security, and six more. Projects in "Free & Cheap Ways to Learn About IT Security" include using PGP encryption for securing email and sharing files, performing vulnerability scans, setting up an intrusion detection system, and four more.
Here's a sneak peek at the easiest security project:
Project 1: Perform digital forensics by recovering deleted files
Digital forensics is a branch of forensic science dedicated to data recovery and investigation of tech devices. This includes finding the source of intrusions, identifying the damage done by them and mining for information to aid in legal and criminal matters. Retrieving deleted data is one major aspect of a digital forensic professional's job.
Recovering deleted files from a computer or storage device can give you a taste of digital forensics, while also showing you firsthand why data security is so important—a thief could do the same thing to get sensitive info off a stolen device.
There are many free and open-source file recovery tools you can use. Recuva is a GUI-based free commercial product for Windows. PhotoRec is a command-line open-source offering for Windows, Mac OS X and Linux. For GUI-based software in Mac OS X, consider the freeware Disk Drill. The GUI-based tools are naturally more intuitive to use for beginners, but the websites for all three products provide extensive step-by-step instructions.
For a comprehensive set of digital forensics products that let you not only retrieve data but also examine multiple file systems, create registry timelines, perform memory image analysis and more, check out the free SANS Investigative Forensic Toolkit (SIFT).
You'll find many more (and more advanced) projects in the PDF. So what are you waiting for? Time to boost your tech skills and knowledge – without breaking the bank.